Bridge Capital donates $5K to Governor's Tournament of Champions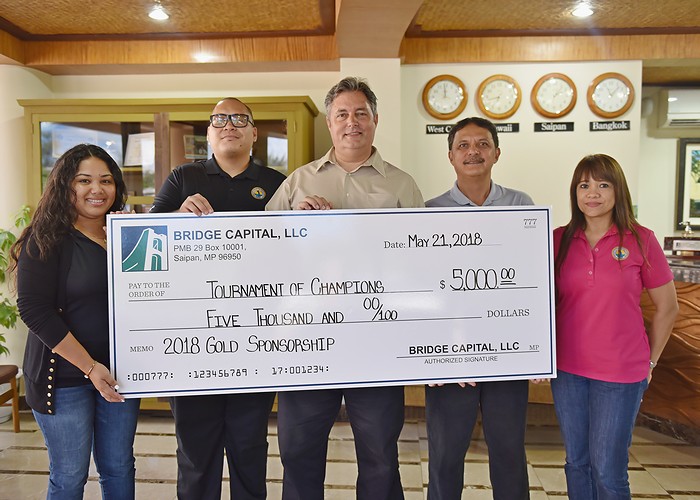 (Press Release) — As part of its commitment to support community organizations and projects, Bridge Capital announced that it has recently donated $5,000 for the upcoming 23rd Annual Governor's Tournament of Champions.
"The annual Governor's Tournament of Champions has raised hundreds of thousands of dollars that benefit numerous community projects," said Tucker Baldwin, Corporate Operating Officer of Bridge Capital. "We are proud to be part of the event and look forward to this weekend's tournament and wish all players good luck."
"Bridge Capital's contribution goes a long way to ensure the success of this year's and previous Governor's Tournaments of Champions," said Ben Babauta, TOC Tournament Director. "We are grateful for the company's unwavering support over the years."
The 23rd Governor's Tournament of Champions will be played at the LaoLao Bay Golf and Resort's East & West Courses on May 26 and 27.  The two-day event is bigger and better than ever with exciting hole-in-one prizes and the chance to win thousands of dollars in possible prizes. The TOC tournament fee is $200.00.
Winners in the Men's Championship, A, B, C, Senior and Super Senior flights will each receive $500 cash, $400 cash, $300 cash, a Casio watch, and $100 DFS gift certificate for the first to fifth place, respectively. The Ladies Low Gross winners will receive $500, $400, and $300 cash for first to third place, respectively. The first, second, and third place winners of the Ladies Low Net will each receive a trophy.
There will be hundreds of thousands worth of prizes that will be at stake in the two-day tournament, including hole-in-one prizes that include a brand new 2018 Hyundai Kona donated by Triple J Motors, a brand new 2018 Honda Civic Coupe, a $5,000 hole in-one cash prize donated by Pacifica Insurance, $5,000 hole-in-one cash prize donated by McDonalds of Saipan, one year free golf donated by LaoLao Bay Golf & Resort, one round trip ticket to anywhere in Asia donated by Asiana Airlines, and one round trip ticket to Guangzhou or Shanghai, China, donated by Saipan Travel Inc.
Since its inception, TOC has turned over more than $800,000 to the Saipan Beautification Fund, which has gone directly to improvements like the tree-lined traffic medians that stretch from Garapan to the former Palm Resort Saipan, as well as the revitalization of the Garapan special district. In addition, the Governor's TOC also contributed funds for the Paseo de Marianas, the lighting of the Saipan Beach Pathway, and the beautification of the Port to Park pathway.
For more information about sponsorship opportunities for the 2018 TOC, contact Marie Sablan at 236-2572 or Marida Pensader at 236- 2530. For player information and to download the registration form, visit www.tocSaipan.com.
Want new articles before they get published?
Subscribe to our Awesome Newsletter.

Our passion lies in bridging 'opportunities' with the 'means' to make them happen—whether it takes giving loans, making investments, offering insights, bringing together the right people or packaging custom solutions to reach this single-minded goal. We take pride in connecting the dots every day for clients, partners, associates and communities, far and wide.