Who We Are?
Over 39 Years In Service
Bridge Capital, LLC is an international investment banking and asset management company specializing in high-yield distressed debt acquisition and structuring, equity and debt placement, investment management and real estate secured lending. The company also provides management and consulting services to companies involved in commercial and residential real estate, land development, banking and loan origination.
Real Estate: Investor, Lender & Advisor
From hotel resorts & golfing estates to residential projects & even theme parks, we do it all from lending and investing to developing & managing unique commercial, retail & residential developments
Banking & Financial Advisory Services
Looking to do business in Cambodia & the ASEAN trade area? Our subsidiary Angkor Capital Specialized Bank offers secure commercial lending & custom solutions to local & international businesses & individuals.
Debt Acquisition & Restructuring
Have distressed assets that you'd like to sell? We're experts at restructuring secured debt and managing foreclosures and bankruptcies . Get connected with our network of special private lenders.
EB-5 Immigrant Investor Program
We help foreigners invest and obtain green cards through qualified US real-estate projects. We have our own USCIS-designated Regional Centers through which we can accept foreign investment.
Corporate Social Responsibility
In every place Bridge Capital lays foundations, we seek to both build and enrich its communities— be it through crisis response, supporting the arts, or youth training and development.
Become a Bridge Capital Partner
We provide management and consulting services to firms that specialize in areas such as commercial and residential land development, banking, rentals and operating businesses. Bridge Capital currently has financing and clients in Cambodia, Canada, Macau, Mariana Islands, Portugal, Thailand, and the US.
People with opportunity and people with money run into holes in their world, and we help fill those financial holes.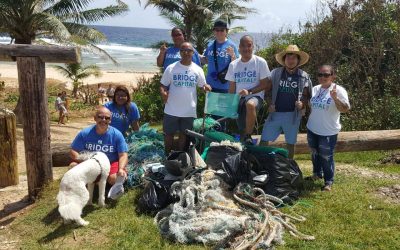 News Bridge Capital joins the community by participating on the 33rd International Coastal Clean Up last September 15, 2018. The island-wide cleanup is considered as the world's largest single-day volunteer effort to remove trash from local waterways, beaches, lakes...
read more
Need Help?
Send a message
Our support representatives will check your message and forward to the best person when necessary. We'll get back to you within 48 hours.
If your issue can't wait, you can also reach us via live chat on our messenger or call  +1-670-322-2222.
Saipan
PMB 29 Box 10001 Saipan MP 96950 CNMI USA