3 GCA students win in Bridge Capital art contest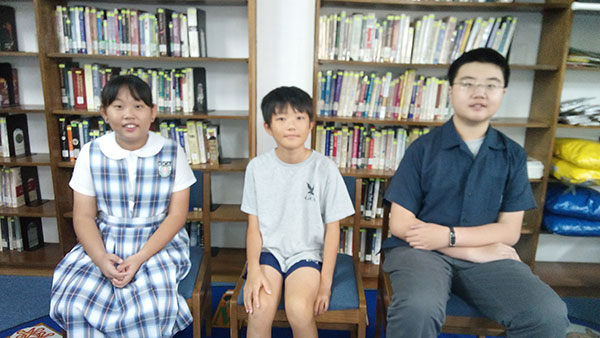 Three Grace Christian Academy students won big cash prizes at this year's Bridge Capital LLC art contest.
Two GCA students won in the ages 11-and-under category. First place went to 5th grader Alyssa Kim, who won $750, while 4th grader Alvin Han won second place and a $500 cash prize.
In the student category, Cheng Si Conrad Bao, a 9th grade student at GCA, won second place with a $1,000 cash prize.
The winners were announced during the first day of the Flame Tree Arts Festival last April 12, 2019.
Kim's entry, called "Paradise," is a painting of a colorful parrot and a beautiful Bird of Paradise flower. Hans did a very detailed "Legend of Saipan" painting inside a turtle image. Bao submitted his project in Environmental Science under Geri Rodgers titled "Dancing Lady" using recycled materials such as paper and plastic trash bag for the ballerina's tutu.
This was the Bridge Capital's ninth year of the art competition, which is open to all ages in different categories.
Out of the over 340 entries this year, over 100 were from GCA students, especially from Kindergarten to elementary for ages 11-and-under category, whose artwork were done during art classes under Esther Manzano.
Bridge Capital LLC chief executive officer John Baldwin said that the goal of the annual competition is to give artists a chance to show their work, show their talent and to reward them for having the courage to produce works of art.
Want new articles before they get published?
Subscribe to our Awesome Newsletter.