Bridge Capital is Deluxe Sponsor for 2021 HANMI Golf Tourney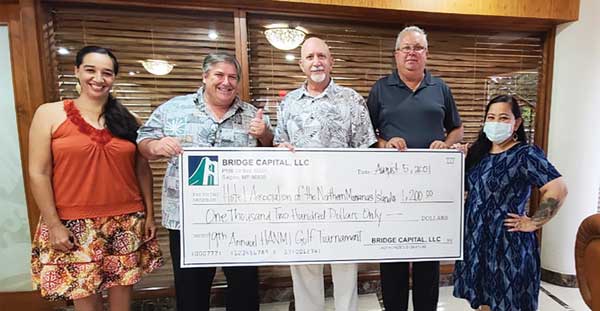 Bridge Capital LLC has signed on as a Deluxe Sponsor for 19th Annual HANMI Charity Classic Golf Tournament on Aug. 14, 2021 at Coral Ocean Resort, donated $1,200 cash to the cause. The tournament will benefit the 2022 Northern Marianas Pacific Mini Games.
"Bridge Capital has been a supporter of countless community events for as long as I can remember," said tournament committee chair Glenn Policare. "To have Bridge Capital step into the Deluxe Sponsor role this year is so greatly appreciated!"
Bridge Capital joins Pacific Eco Laundry as Deluxe sponsors for the tournament. Hole-in-One prizes are a 2021 Toyota Camry LE from Atkins Kroll Saipan, a 2021 Hyundai Elantra from Triple J Motors, and a 2021 Nissan Kicks from Joeten Motors Company, and $10,000 cash from United Equipment Rental. Presidential Suite Sponsors are Tan Siu Lin Foundation and Marianas Visitors Authority. Deluxe Package Sponsors are Bridge Capital LLC and Pacific Eco Laundry. Superior Package Sponsors are GrandVrio Resort Saipan, Saipan World Resort, Kanoa Resort Saipan, IT&E, Kautz Glass and Shirley's Coffee Shop. VIP Package Sponsors are Armatech, Ben's International Corp., Chung Nam Corp., Chong's Corporation, Dial Rent to Own, DOCOMO Pacific Saipan, Ernst and Young, Ina's Kitchen, the Japan Saipan Travel Association, Kensington Saipan Hotel, Pacific Islands Club Saipan, and Pacific Saipan. The tournament is also supported by numerous in-kind sponsors.
The tournament fee of $140 includes green fee and the awards luncheon, and registration forms are available at www.saipanhotels.org. For an additional $30, players may also compete for optional play cash and prizes, including longest drive (male and female), accurate drive, and four chances for nearest to the pin. Showtime is 6am and the tournament will start at 7am. An awards presentation and raffle will be held poolside immediately following the tournament at Coral Ocean Resort.
For more information, contact tournament chair Glenn Policare at glenn_policare@kanoaresort.com or visit www.facebook.com/HANMI670. (PR)
Want new articles before they get published?
Subscribe to our Awesome Newsletter.