Bridge Capital Donates $6K in Cash and Prizes to NMC Foundation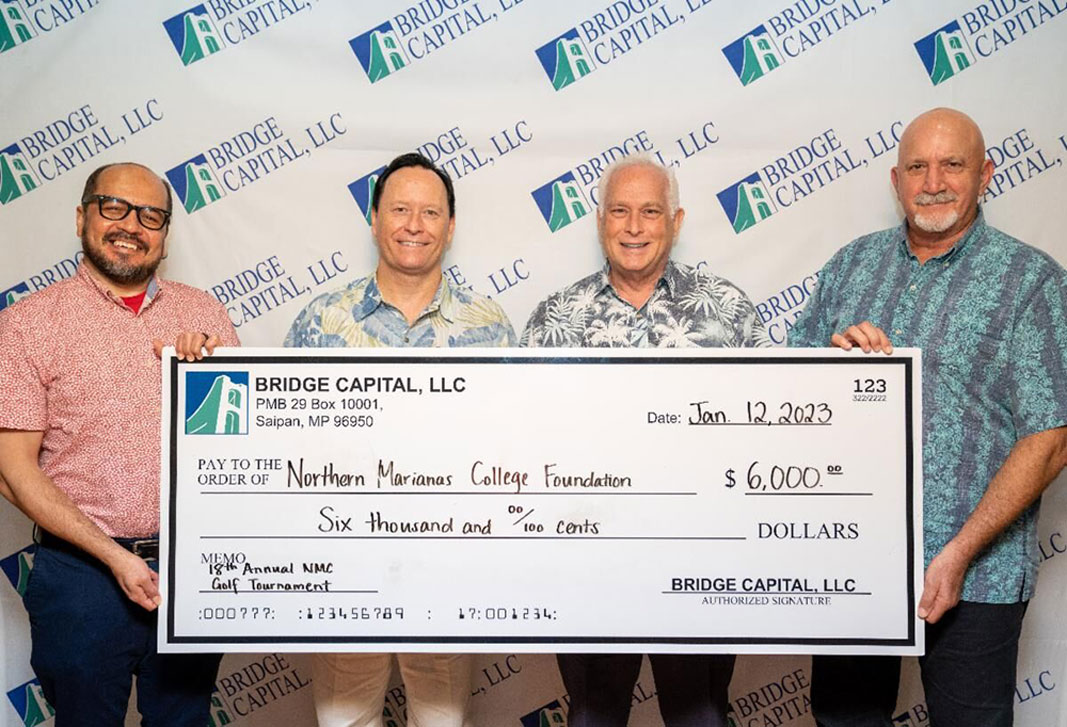 As part of its efforts to support higher education and expanding opportunities for students, Bridge Capital recently donated $6,000 in cash and prizes to Northern Marianas College. The company's donation was made in support of NMC Foundation's upcoming golf open in March 2023.
"Bridge Capital is proud to be a part of the effort that helps NMC provide quality higher education to the CNMI," Bridge Capital vice president Bart Jackson said. "We encourage other companies and organizations in the Commonwealth to do the same."
For the first time, NMC's tournament will be a two-day event and will be held on March 18 and 19, 2023, on the east and west courses of the LaoLao Bay Golf and Resort. The tournament fee for the 2023 golf open is $250.
"The success of NMC Foundation's golf tournaments is largely due to the generosity and involvement of businesses like Bridge Capital," NMC Foundation Board chair Ben Babauta said. "We are greatly appreciative of their donation this year."
The tournament, which is the signature event of the NMC Foundation, aims to raise funds for the college for its rebuilding and reconstruction efforts. Despite the devastation and destruction of Super Typhoon Soudelor and Yutu, the college has been aggressively seeking funds from all available sources to rebuild classrooms, offices, labs, and workforce spaces for the CNMI community. The foundation is seeking the CNMI private sector's support through fundraising events like the golf tournament.
Want new articles before they get published?
Subscribe to our Awesome Newsletter.